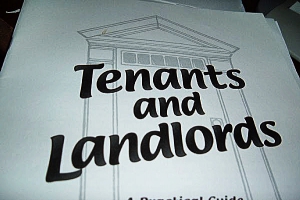 Tenants' Rights in Nigeria
TENANTS' RIGHTS IN NIGERIA: RENTAL NOTICE AND EVICTION
Maybe you are unable to renegotiate or renew the tenure of your lease/tenancy, or in a dispute with your landlord; or facing imminent eviction from a rental property; this is a guide on tenants' right what you need to do in the situation.
What You Should Note About Tenants' Rights

Understand that for your landlord to effectively terminate your tenancy and evict you from his rental property, your landlord or his agent must serve you adequate statutory eviction notices in writing which must conform with the laid down formalities. You are entitled by law to be served with:
Notice to Quit (issued by landlord or his lawful attorney where your tenancy has not expired)

Notice of Owner's Intention to apply to Court to recover possession (also known as 7 Days' Notice – issued where your tenancy was effectively terminated).
The court frowns at any self-help or extra-judicial action taken by landlord to evict a tenant or to recover possession of premises. Where your landlord resorts to self-help or uses the police against you, you should talk to a lawyer. The lawyer, depending on the circumstance of your case, will commence the necessary court action as he may deem expedient.
However, you must not unnecessarily hold unto the demise premises where your occupancy is no longer valid. Endeavor to amicably resolve all disputes with your landlord and maintain a good relationship to avoid embarrassment.
How to Know If the Landlord's Notice to Quit is Valid
The timeframe for a valid Notice to Quit may be determined by the agreement you had signed with your landlord. If no agreement was made, it will be implied by law based on the period of your tenancy and your mode of payment of rent as follows:
If your tenancy is on a weekly basis, you are entitled to 7 days' Notice to Quit;

For tenancy at will – 7 days' notice;

Monthly tenancy – 1-month notice;

Quarterly tenancy – 3 months' notice;

Half-yearly tenancy – 3 months' notice;

Yearly tenancy – 6 months' notice.
The length of Notice to quit cannot be less than what is required by law otherwise it would be invalid. The date/ time of service of a Notice is very important as it starts counting from the date/time of its service.
Court Hearing
After being served with the eviction notices, you have the option to willingly move out of the property, or to ignore the notices. If you choose to ignore the eviction notices, expect to receive a court summons in form of a writ or plaint for the recovery of possession of the premises at the expiration of the time stated in the Notice of Owner's Intention to apply to Court to recover possession of the property.
Grounds for Eviction
At hearing, the grounds upon which the landlord may ask for recovery of premises may be that you are in arrears of rent; constituting a nuisance; conducting illegal activities in the leased property; violated a term or condition in the tenancy agreement; seriously damaged the rental property; or that you have sublet the demised premises to a 3rd party; or that he or his family member wants to personally use the premises; or he wants to renovate the premises.
Action You Should Take
For starters, you must not unnecessarily hold unto the demised premises of landlord where your lease is no longer valid. Pay up all arrears of rent and endeavor to amicably resolve all disputes with your landlord to avoid headaches and embarrassments.
However, if you simply cannot pay up due to a breach of the terms of the lease by your landlord, or you need more time to pay-up, or you want to review and renegotiate the lease agreement to allow you a fair deal; you need to talk to a lawyer for help. At the consultation with the lawyer, you will need to present evidence that may include rent receipts, invoices, written agreements, letters, emails, photographs, etc.
Actions Lawyer Will Take
After due consultation and evaluation of your case, the lawyer will obtain a letter of authority from you to offer court representation.

Where necessary, your lawyer may challenge the jurisdiction of the court to hear the suit stating the grounds for the striking-out or dismissal of the suit.

Your lawyer may prepare a counterclaim against the landlord that may include: your improvements on the demised premises, unexhausted rent, wrongful ejection where your lease is still subsisting, and damages for trespass to your property through unlawful ejection.

Where an out-of-court settlement is ordered, the lawyer can help negotiate the terms of the settlement.
NEXT STEPS?
Whether you are facing eviction or tired of trying to settle a tenancy dispute with your landlord, or you need help reviewing and renegotiating the terms of the rental agreement; you should seek legal guidance. Action for recovery of possession of the property by landlord may result in your eviction and award of arrears of rent and mesne profits against you. For a review of your case, talk to an attorney.
Lex Artifex, LLP.
Tenants' Rights in Nigeria