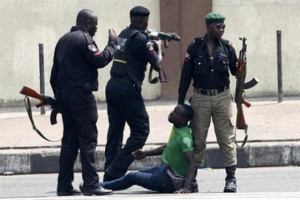 Human rights enforcement in Nigeria
HUMAN RIGHTS ENFORCEMENT IN NIGERIA – THE PROCEDURE FOR

As a citizen, it is important to understand your fundamental rights as enshrined in Chapter IV of the 1999 Constitution of the Federal Republic of Nigeria. These Fundamental Human Rights pertain to life; dignity of human person; personal liberty; fair hearing; private and family life; freedom of thought; conscience and religion; freedom of expression and of the press; peaceful assembly and freedom of association; freedom of movement; freedom from discrimination; and freedom to acquire and own immovable property anywhere in Nigeria.
Nevertheless, understanding how to enforce these rights where there is a breach, or to file claims in court for compensatory reliefs against anyone including a government agency such as the Police may be just as important.
How to Enforce Fundamental Human Rights in Nigeria
It is only at a court of competent jurisdiction that you can enforce any of the above listed rights either by alleging that your right is being breached, is likely to be breached or has been breached. Action against human right abuse or fundamental right enforcement may be filed at the Federal High Court or at the High Court of a State, though for complaints relating to employment discrimination, the National Industrial Court may be the appropriate venue. Court hearing of the application is usually on affidavit evidence and the written address filed in Court which must have the application on which the written address is based.
Who Can File an Action?
Under the Fundamental Rights (Enforcement Procedure) Rules 2009, a person who can institute an action for the enforcement of human right alleged to have been breached may include any of the following persons:
Anyone acting in his own interest;

Anyone acting on behalf of another person;

Anyone acting as a member of, or in the interest of a group or class of persons;

Anyone acting in the public interest, and

Association acting in the interest of its members or other individuals or groups
What's the Financial Cost to Prosecute an Action for Fundamental Rights Enforcement?
Often, lawyers work on pro bono (free) basis, or on a contingency basis to prosecute an action for fundamental right enforcement on behalf of clients. By contingency basis, it means the client may have to pay the court fee and/or administrative fee. If the action succeeds in court, the lawyer receives a fixed percentage of the compensatory monetary cost awarded to client as his professional fees. If the action fails, the lawyer receives nothing or only the out-of-pocket expenses (if any).
Remedies and Reliefs You May Be Entitled To
Where the Court finds the merit of your claims, the court will make such orders as it may consider just or appropriate for the purpose of enforcing or securing the enforcement of any of the Fundamental Rights provided for under the 1999 Constitution of the Federal Republic of Nigeria, as amended, or the African Charter on Human and People's Rights (Ratification and Enforcement) Act to which you may be entitled to.
Such orders may be in form of declaratory reliefs or injunctive reliefs. The Court may award monetary cost in your favour as compensatory damages for the unlawful action of the Respondent (the opposing party); grant bail if you are in detention; order the Respondent to tender a written apology to you; or issue a restraining order against the Respondent from taking further steps in connection with the matter or maintaining status quo.
NEXT STEPS?
The information provided herein is for general informational purposes only and must not be construed as a substitute for legal guidance. For human rights enforcement in Nigeria, talk to an attorney.
Lex Artifex, LLP.
Human rights enforcement in Nigeria